Nikki Lissoni... What's inside counts
...there was a girl that was given the name of Nikki the day she was born. Her Spanish father and Dutch mother raised her to become a woman. A young talented gorgeous woman, full with Spanish temperament. She was and is loved by many. From the very first moment. What's inside counts. Nikki was known as an honest and reliable person. "Dutch influences" she called these characteristics of hers. The Netherlands, that's where her heart would always be... The day that Nikki turned eighteen her grandmother surprised her with the most fantastic gift ever. Packed in a lovely little white box with a golden lid, was a heirloom that had been in the family Lissoni for ages. A necklace with a charming coin, but at the same time odd and extraordinary too. She didn't recognize the signs on the decorated coin – it was not making sense at all. "The meaning of this coin - my sweet child – differs from person to person", grandmother told her lovingly. "As I am the one that gives you this coin and you are the one that receives my precious gift, the two of us will decide what the meaning of this coin will be. Please sustain this age-old tradition, Nikki. A tradition of luck, love and wonderful memories. What's inside counts. This is my wish for you." Because of these words and the most cherished gift that she had kept by heart since then, Nikki stayed true to tradition. She kept her word. The tradition continued with the jewelry of Nikki Lissoni with necklaces, pendants and the most extraordinary coins. A different wish for each coin. Your wish. What's inside counts.
www.nikkilissoni.com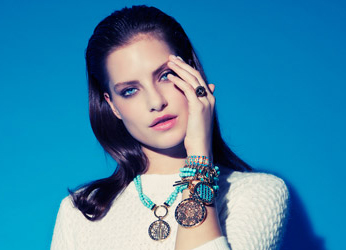 Catherine Michiels
Catherine is an accomplished jewelry designer who combines this gift with her connectivity to the spiritual world.
"In the summer of 1973, I spent time with my Grandmother buying costume jewelry from the traveling salesmen for her boutique on the boardwalk in the North Coast of Belgium. I had just started to make enamel pendants when a client saw them and placed an order for 100 pieces. My jewelry career had begun."
Trained at the Arts & Metiers Institute in Brussels, she studied gemology and diamonds grading at the prestigious High Council for Diamonds in Antwerp.
She worked in the fashion industry at Marie Claire and Elle, and in film production for many years, but returned to designing and creating unique jewelry as an expression of her truest life passions. Her nomadic travels and freedom of spirit are present in all of her works. Each piece symbolizes her experience and intention.
Also Reiki Master, Catherine's creations transcend both jewelry and art. They carry a spiritual consciousness shared by those who wear them and connect with her vision and aesthetic.
www.catherinemichiels.com