Fall In Love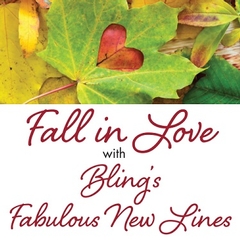 We are falling in love here at Bling! Fall is upon us and the weather is getting cooler, the leaves are changing and we are all settling into our new school/work routines. I love Fall! Its the time of year where the weather is not too cold or hot, the colors are gorgeous, and its a gentle reminder that what was once old will become new again. That's what we do here at Bling! We turn something that once was old to someone else, new to someone else once again. Every one of our beautiful consignment pieces has a special story behind it and the story will continue on....
Julie and I are so excited to share the new, exciting lines here at Bling for the Fall/Winter 2016 season. If you were not able to make it to our even at Sconni's this week, we are very sorry we missed you! That's why we want to extend our New Line Specials out to you through the end of September! We hope you will be able to join us here at the store to experience the beauty and shine we get to experience every single day!
Our New Lines and Specials include:
Samuel B-Sterling silver with colorful gemstones inspired by beautiful countries like Bali and Thailand. Purchase 1 piece and receive a 20% discount, purchase 2 pieces and receive a 30% discount!
Spartina 449 Jewelry and Accessories Fall 2016-Gorgeous prints and colors will captivate you. With your $100 purchase receive a beautiful canvas makeup bag for FREE! Available in 5 different colors! *while supplies last
Holly Lane Christian Jewelry-Sterling silver jewelry inspired by Bible verses to share your testimony with others. With ANY Holly Lane purchase receive a FREE coloring gift!
Nikki Lissoni US-What's Inside Counts is this jewelry line's mission statement. Create your own one of a kind jewelry piece with the various pendant holders, chains, bracelets, coins, and charms! With your $99 purchase you will receive a regal jewelry box adorned with roses!
Finchberry Gourmet Artisan Soaps-Buy 4 bars of this stunning soap for just $32. Each bar normally $9.
Bling is your go-to jewelry and accessory boutique bringing you the high-end jewelry you love at the low prices you love even more! We have something for everyone, whether that's a new Pandora bead, a cute fashion jewelry piece, a beautiful new scarf, diamonds, gemstones, gold, silver, a new Citizen or Obaku watch for him and her, or that gorgeous one of a kind engagement ring, its all here at Bling!
We are looking forward to seeing you--come in before the END of September and take advantage of the specials!
Your Blingologists,
Julie and Trina