Get Your Vacation on - For Free!

We are excited to announce an amazing opportunity at Bling fine jewelry - All. Month. Long.
With your purchase of $999.00, you will receive a voucher good for a 7-night stay for 2 at over 3000 resort destinations worldwide. Some are even in your own backyard. You have over 2 years to choose when and where you'd like to go.
Fly or drive, kick back and relax.
Now is the perfect time -
- Purchase that engagement ring and pop the question
- Add a band for that special anniversary
-Treat yourself to the diamond studs you always wanted
- Let us create the special jewelry piece you've always imagined
The possiblities are endless!
We've brought in new engagement ring styles, loose diamonds, and gemstone jewelry just for this promotion.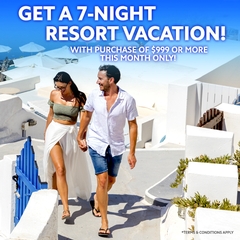 *offer is pre-tax and not valid on prior purchases or layaways. One offer per person.