Thursday 30 November 2017
Letters to Santa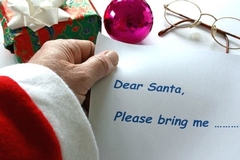 The season of giving is upon us and we're here to help you with the perfect gift.
The New York Times posted research stating the following:
'Let your recipients do the work for you. They know what they want better than you do. If they've asked for something, buy it instead of surprising them.
Psychologists have found people are happier getting items listed in their gift registry than unsolicited gifts'.
Tomight from 4-8 is the kickoff of our "Letters to Santa" where you can sip cider, nibble cookies, and try on your favorites from our extensive collection of jewelry and accessories. Our elves will be on hand to note your favorites. Your special someone will even receive a special price for choosing from your list. The first 25 attendees will receive a gift bag of goodies.
No long lines, returns, or exchanges needed! They will know it's perfect.
Dont forget to wear your ugly Christmas sweater to take home a pic from our photo booth!