Obaku Watches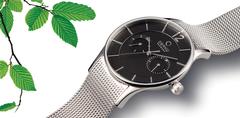 Obaku Watches - Just in from our trip to the Smart Jewelry Show in Chicago!
Obaku Circle of Life
The Obaku logo is inspired by the Zen calligraphic circle of life, also known as the Enso, which in Japanese means 'circle'. It symbolizes strength, elegance, and the universe and is an 'expression of the moment'. The calligraphic Enso refers to a moment when the mind is free to simply let the body and spirit create. In short it symbolized everything an Obaku watch is.