Transform your water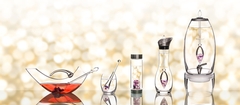 It's here! One of our greatest finds at the Vegas jewelry show turned out to be gemstones you don't wear. What?!
Introducing Gem-Water by VitaJuwel, a collection of water bottles, decanters, vials, and droplets that turn ordinary water in extraordinary H2O,
Gemstones have the unique ability to store energy. It's a property that makes quartz watches work, for example. Each type of gem, by nature, has a unique energetic charge. The gems inside VitaJuwel vials transfer their energy to the water that surrounds the vial improving the water's vitalization level.
Studies have shown the following improvements:
-increases in both pH level and oxygenation
-neutralization of harmful substances' information
-increase of vital powers
-increase in bioavailability of minerals
-improved energy balance
And then there's the wine! In the recent past, some wineries and professional sommeliers rediscovered the tradition of enhancing wine with amethysts and acheived amazing results. Gem-Water brings this tradition to the next level with their Vino vial. It features a twisted surface and the amethysts are enclosed in the vial, making infusing wine so much more hygienic. The effect on wine is truly stunning. The tannins are usually perceived to be smoother and more pleasureable. Vino gives even great wines a very special "tuning".
Featured in O Magazine and Elle, Gem-Water is now available in the luxury retail market.
At Bling, we are honored to bring the collection to Central Wisconsin.
Stop in for your free tasting today and see the difference for yourself!
<3 The Bling Team